Portrait
PEATLAND RESTAURATION IN SUURSOO-LEIDISSOO AREA
Size: 3343 hectares
Conservation status: NATURA 2000, SPA, Läänemaa-Suursoo Landscape Protection Area
Habitat types: Degraded Calcareous fen (7230), Transitional and quaking mires (7140), Active raised bogs (7110*), Bog Forests (91D0*), Fennoscandian deciduous swamp woods (9080*), Western Taïga (9010*)
Climate: Cool temperate climate
Temperatures: Ø January: -3°C, Ø July: 17°C
Precipitation: Ø 696 mm/year
Peatlands & Greenhouse gas emissions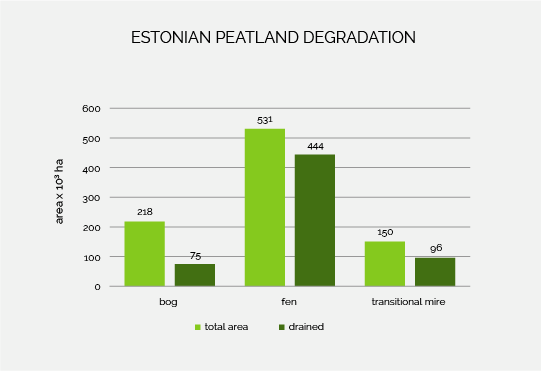 Nowadays about 70 percent of Estonian mires are directly or indirectly affected by degradation. About 5000 hectares are abandoned peat mining areas, on 11,000 hectares peat mining is still being in progress (2).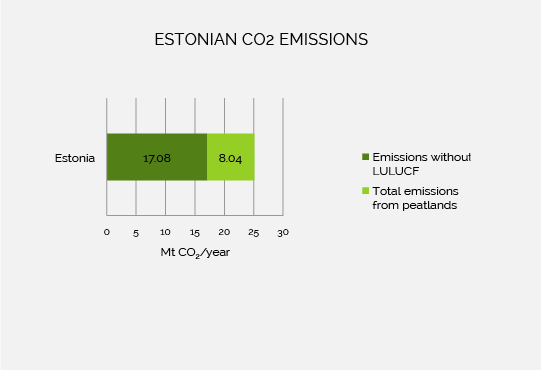 Today about 70 percent of the mires are impacted by drainage, thereof 84 percent of fens and 64 percent of transitional mires. The annual CO2 emissions of Estonian mires are 7.7 megatons CO2 (1 Mt = 1 Mio. t) in which
1.5 megatons derive from bogs,
1.2 megatons from transitional mires and
4.8 megatons from fens (2).
If the CO2 emissions from degraded peatlands are focussed, Estonia is with 2.11 tons behind Indonesia on rank 2 at the global scale (3).
Team
Mati Ilomets

National Coordinator and ecology expert Mati Ilomets has extensive knowledge of telmatology, his work has always been related to mires.

Laimdota Truus

Habitat expert and PR expert Laimdota Truus is plant ecologist with long practice in fieldwork, also an editor of a popular orchid protection journal.

Kairi Sepp

Field and lab assistant Kairi Sepp has experienced in bryophyte ecology and participated in mire vegetation monitoring and inventories.

Raimo Pajula

Remote sensing expert and peat expert Raimo Pajula has long experience in peat composition identification and map analyses.

Anna-Helena Purre

Anna-Helena Purre is a Ph.D. student and specialist in the greenhouse gas emission study.

Elve Lode

Elve Lode is a hydrologist specialized in the mire hydrology.

Martin Küttim

Martin Küttim is a plant ecologist, whos research is currently addressed to the phenology of peatland vegetation and the effect of climate change on peatland ecosystems.

Galina Kapanen

Galina is a researcher of the water bodies, who has had a great deal of laboratory experience, especially in geochemistry and lithology of sediments investigation, both indoors and in the field. She likes analyzing relations between different things and areas, for example past and present ecosystem processes; last years actively deals with...
Partner & Co-Financer
The University of Tallinn has six different schools, with more than 10,000 students enrolled. The Institute of Ecology is part of the School of Natural Sciences and Health. A focus of the work lies on the function and the mass flow in wetland ecosystems. The employees develop research methods and scientific principles for restoring these ecosystems.
The Environmental Investment Centre is the Estonian Co-Financer of the LIFE project.
References
Paal, J. & Leibak, E. (2011): Estonian Mires: Inventory of habitats. Publication of the project "Estonian mires inventory completion for maintaining biodiversity". Tartu.
Barthelmes, A., Couwenberg, J., Risager, M. Tegetmeyer, C. & Joosten, H. (2015): Peatlands and Climate in a Ramsar context. A Nordic-Baltic Perspective. Copenhagen.
Joosten, H. (2011): The global peatland CO2 picture. In: Tanneberger, F. & Wichtmann, W. (2011): Carbon credits from peatland rewetting. Climate – biodiversity – land use. Science, policy, implementation and recommendations of a pilot project in Belarus. Stuttgart. pp. 20-30.
Valk, U. (1988): Utilization of peatlands in Estonia: a historical review. Proc. 8th Int.
Peat Congress, Sect. 1, Leningrad. pp. 78–82.
Ilomets, M. (2015): Estonia. In: Joosten H., Tanneberger F. & Moen, A. (eds.): Mires and peatlands of Europe: Status, distribution, and nature conservation. Schweizerbart Science Publishers. Stuttgart.
Kask, M. (1965) – Каск, М. (1965) Растительность болота Авасте в западной Эстонии. [Vegetation of the Avaste mire in West Estonia] Tartu: Akademiya Nauk Estonskoy SSR.
Pikk, J. (1997): Metsaparanduse tulemused turvasmuldadel. [Results of forest drainage on peat soils] Akadeemilise Metsaseltsi Toimetised, IX. S. 12-16.
Ratt, A. (1985): Mõnda maaviljeluse arengust Eestis läbi aegade. [About the development of land cultivation in Estonia over centuries] Tallinn: Valgus.